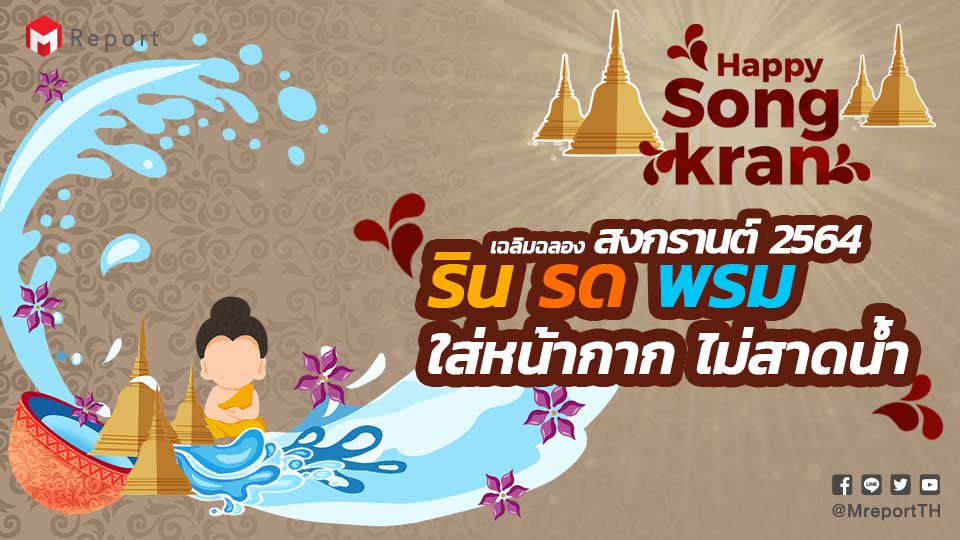 Other Events
Thailand Celebrates Songkran Festival 2021 in New Normal
Traditionally, Songkran is the Thai New Year's Day which was believed in and has been followed from the ancient time. To end the old year and welcome the new year according to the Thai solar calendar. It usually begins on April 13 and ends on April 15 every year.
April 13 is the Maha Songkran Day or the day to mark the end of the old year.

April 14 is called Wan Nao which is the day after.

April 15 is the day on which the New Year begins.

Songkran Festival to celebrate Thai New Year
The Songkran Festival has been organised to celebrate the Thai New Year. In this festival, activities are organised by people of all ages and status who are united to express their unity to celebrate the occasion by cleaning houses and temples and harmoniously acquire merits to dedicate the results of their good deeds to their departed ancestors. This is an act to express gratitude to and awareness of their ancestors' virtue. Anointing monks and Buddha images, pouring scented water to the elderly to be blessed by them, entertaining programmes such as indigenous fun-fair are organised to identify the festival that includes water throwing among the young ones and children with a friendly attitude.

Celebrate "Songkran 2021" in a new normal way.

Thailand Covid-19 cases rose again in recent days. As a result, the celebration of Songkran 2021 will follow the measures D-M-H-T-T as a guideline to prevent the infection.
D - Distancing, spaced between each other.

M - Mask, wearing Mask at all times.

H - Hand washing, wash your hands frequently, provide a thorough and adequate hand-washing gel service point.

T - Testing, body temperature check.

T - Thaichana - Install and use the Thaichana application

"May you come into a good fortune, good luck, good health, and good cheer. We wish you a happy Songkran"
Source : M Report