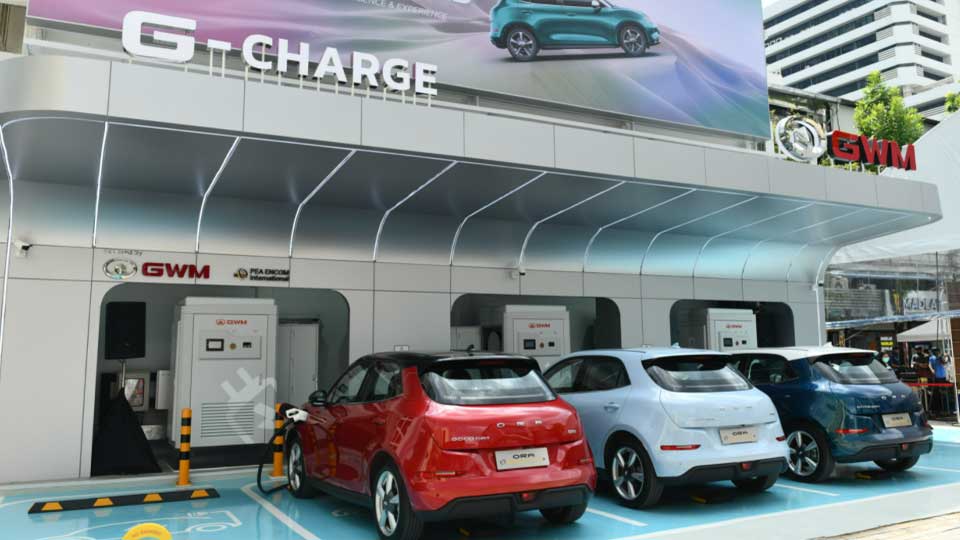 Great Wall Motor (GWM) continues to elevate Thailand's EV ecosystem, this time with the launch of G-Charge Supercharging Station.
Great Wall Motor (GWM) continues to elevate Thailand's EV ecosystem, this time with the launch of G-Charge Supercharging Station.
Advertisement
Bangkok – 3 November 2021 – Great Wall Motor (GWM) continues to elevate Thailand's EV ecosystem, this time with the launch of G-Charge Supercharging Station. Sitting on Soi Siam Square 7, the first fast-charge station by GWM in Thailand features three DC charging units each with two CCS Type 2 connectors. The station therefore has a total of six connectors with maximum charging load of 160kW. Up to six electric vehicles (EVs) can get charged at the station simultaneously. Boasting Smart Parking system, G-Charge Supercharging Station impressively presents O2O (Online-to-Offline) experiences as users may book a charging time slot, pay, and use charging services via GWM Application. Through GWM's collaboration with PEA ENCOM International Company Limited, G-Charge Supercharging Station is one of Thailand's largest public DC fast charge stations with solar cells for 100% EVs. This shiny facility will offer free service to ORA Good Cat users in its launch period and is also set to welcome users of other EVs with full-scale services from December onward. The launch of G-Charge Supercharging Station underlines GWM's vision and commitment to drive Thailand towards future EV.
With the theme of "Charge Your Day", the first Supercharging Station of Great Wall Motor in Thailand was unveiled. At the same time, the "G-Charge energy supplement ecology" was officially released. The completion of G-Charge Supercharging Station will further highlight the leading role of GWM brand in the construction of EV ecology in Thailand, continuously deepen the brand value of GWM new energy, new intelligence and new experience, and accelerate the rapid popularization and high-quality development of new energy vehicles in Thailand.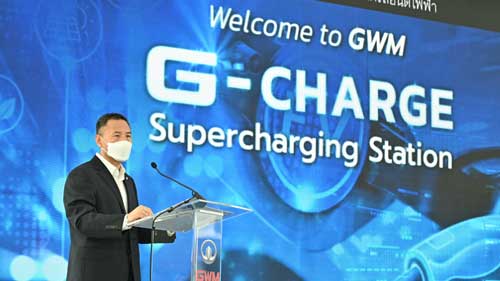 Mr. Steven Wang, Vice President of GWM ASEAN and Thailand, says, "Urgent infrastructure development is a key factor for tangibly building Thailand's EV ecosystem. With the number of EVs growing every year, government agencies, the private sector and automakers alike have been fast expanding their networks of charging stations to cover all parts of the country. As an xEV Leader, GWM plays a role in driving Thailand's EV growth and strengthening its EV Ecosystem. In a bid to boost people's confidence in EVs, we have launched G-Charge Supercharging Station today. This facility will support all EV users, no matter what car brand they have used. The launch of this fast-charge station is just the beginning of our efforts as we are firmly committed to promoting EVs on a continued basis. In line with our Mission 9 in 3 strategy, we will launch nine xEV models in Thailand within three years. Also, we plan to expand our charging-station network across Thailand in support of sustainable EV community".
Mr. Kulit Sombatsiri, Permanent Secretary, Ministry of Energy, says, "Thailand's transition into future EV requires cooperation from all sectors, as we need to foster consumer confidence. Not only that we aim to establish Thailand as the region's key EV manufacturing hub, but we also seek to strengthen related infrastructure. In line with the National Electric Vehicle Policy Committee's guideline, we will develop infrastructure in support of EV-market growth. It has been planned that public fast-charge stations should provide 12,000 connectors by 2030. We are thus extremely pleased about G-Charge Supercharging Station launch. Its opening reflects the vision of a carmaker that plays an important role in transforming Thailand into a low-carbon society, which is one of the government goals".
G-Charge Supercharging Station, GWM's first DC Fast Charge facility, sits in the heart of a vibrant commercial and lifestyle district of Thailand. Sitting in Siam Square, this station offers DC Fast Charge via its six parking lots. This facility is equipped with three 160kW DC charging units, each having two CCS Type 2 connectors. In all, it has six connectors to provide rapid charge for six electric vehicles simultaneously. This Supercharging Station is jointly invested by PEA ENCOM International Company Limited, the first subsidiary of the Provincial Electricity Authority (PEA), in installing a solar system at G-Charge Supercharging Station. GWM Application will soon have the function that enables users to search for a charging station, reserve a charging slot, pay for charging, and control an assigned connector. Smart Parking, moreover, is in place at G-Charge Supercharging Station. Thanks to this smart system, users of the station will enjoy greater convenience. This system can also prevent non-EVs from parking. Once fully compatible with GWM Application in December, G-Charge Supercharging Station will also welcome EVs of other brands. In its launch period, the station will provide services to ORA Good Cat users free-of-charge.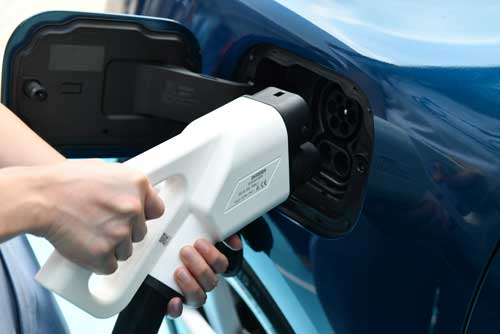 Mr. Michael Chong, Assistant President of GWM ASEAN and Thailand reveals, "Our charging facilities will set a new benchmark for the electric mobility in Thailand. We have planned to build more than 100 charging outlets across Thailand in 2023. Under the brand G-Charge, the stations will be divided into three groups. Starting with Supercharging Stations which are designed for fast charge service. With up to 160kW charging load, the ORA Good Cat 400 TECH and 400 PRO can be recharged from 30-80% within 32 minutes and within 40 minutes for the 500 ULTRA. In addition, we are set to expand DC Fast Charge facilities at GWM Partner Stores across Thailand. Moreover, we are going to establish Destination Charge stations in places like hotels, department stores, and attractions, to make sure that customers will have to best electric mobility experience.
"As a Global Mobility Technology Company, GWM is ready to add a new dimension to Thailand's automotive industry by delivering best products and smart green technologies. Thailand's EV market is still in its infancy. Recognizing both Thai consumers' pain points and needs, we are fully committed to developing an extensive network of charging stations across Thailand under the 'Everyday Practicality' concept. All EV users, regardless of their EV brands, can conveniently use our charging stations through GWM Application. With our support, they can travel confidently without any worry. Our moves are designed to usher Thai consumers and automotive industry towards the next-generation automobiles on a sustainable basis," Mr. Steven Wang, concludes.
Advertisement

GWM is also aware of the need to educate the new generation especially university students about EVs. Therefore, it invites undergraduate university students who are not over 24 years old to join its essay contest. Containing no more than 800 words, each entry must take the theme of "How will EVs change our life and future?" Essays can be written in Thai, English or Chinese languages. Submissions must be done between 15 and 30 November 2021 on Facebook as a public post with #EVChangeYourLifeContest and Facebook Page: GWM Thailand tagged. Results will be announced on 17 December 2021. Winning entries must effectively address the topic given with proper structure and powerful messages. Top three prizes are 15,000 Baht cash prize, 10,000 Baht cash prize, and 5,000 Baht cash prize. All the three winners will also get GWM Points and a certificate of honor from GWM. For more information, please visit Facebook Page GWM Thailand.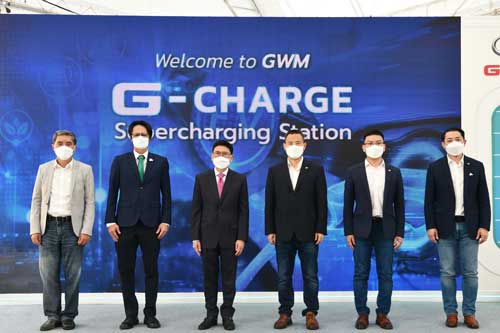 #GWM #Great wall motors ##EVChangeYourLifeContest #Great Wall Motor Company Limited #EV Ecosystem #G-Charge Supercharging Station #EV Charging Station
Source : M Report