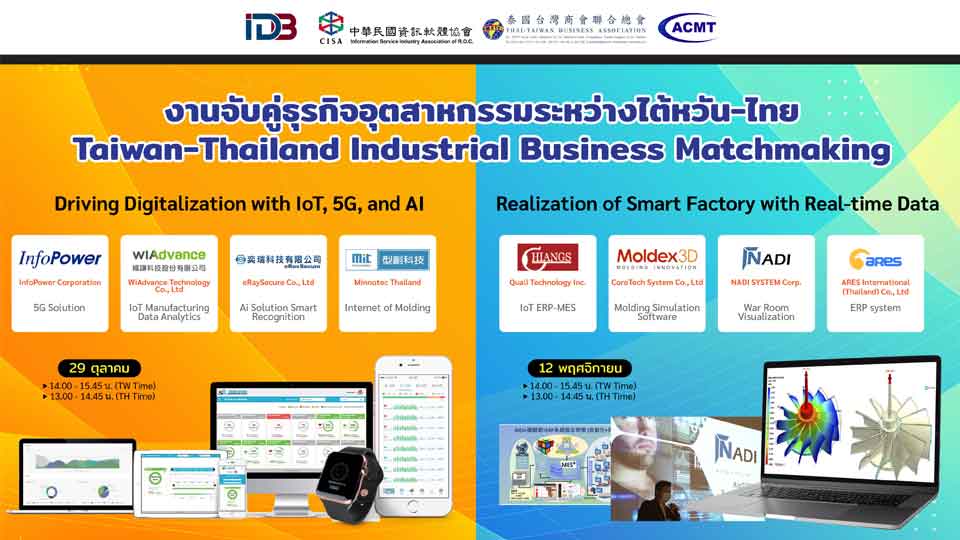 Taiwan-Thailand Industrial Business Matchmaking Event 2021
Taiwan-Thailand Industrial Business Matchmaking Event 2021
Digital transformation is becoming more and more important to society especially in the industrial sector as it makes data and information of the company more transparent, accessible, and real-time.
One of the current goals in the industrial sector is to move towards Industrial 4.0, which aims to incorporate more use of IIoT technology, cloud system, and automation systems to make this possible. While there may be hundreds of solutions out there focusing on different sectors, ACMT will be collaborating with the Information Service Industry Association of R.O.C. from Taiwan to bring cutting edge industrial technologies solution providers to Thailand.
The objective of this business matchmaking event is to create an opportunity for more companies from Taiwan and Thailand to find suitable solutions to help with digital transformation. There will be a total of 3 sessions on 3 different days over the period from October to November focused on different topics related to Industrial Digital Transformation.
Below will be a brief introduction to the title and program of each day's session. At the end of the day, there will be approximately 30 minutes set apart for companies to engage with each other more closely :
Day 1: Digital Transformation Tools for Smart Factory
Thailand Time: 13:00PM to 14.30PM
Participating companies:
WisdomGather (ERP Digital Transformation)

CHT Security Co., Ltd (IT Security)

FUNTEK Software Inc. (Communication Tool)
Day 2: Driving Digitalization with IoT, 5G, and AI
Thailand Time: 13.00PM to 14.35PM
Participating companies:
InfoPower Corporation (5G Solution)

WiAdvance Technology Co., Ltd (IoT Manufacturing Data Analytics)

Minnotec Thailand (Internet of Molding)

eRaySecure Co., Ltd (Ai Solution Smart Recognition)
Day 3: Realization of Smart Factory with Real-time Data
Thailand Time: 13.00PM to 14.35PM
Participating companies:
Quali Technology Inc. (IoT ERP-MES)

CoreTech System Co., Ltd (Molding Simulation Software)

ARES International (Thailand) Co., Ltd (ERP System)

NADI SYSTEM Corp. (War Room Visualization)
Each company will be presenting for 15 minutes and 30 minutes at the end for business matchmaking session. (The sessions will be conducted in Chinese)
To learn more about what each company does: www.caemolding.org/cisa-th-2021/
For those interested, they can register using this link: https://forms.gle/btyuMyD6KQyK2SGi8
Contact Person:
Dr. Angus Chang
Phone Number: 094-785-1529
Email: angus.chang@minnotec.com
Source : MINNOTEC (THAILAND) CO., LTD.