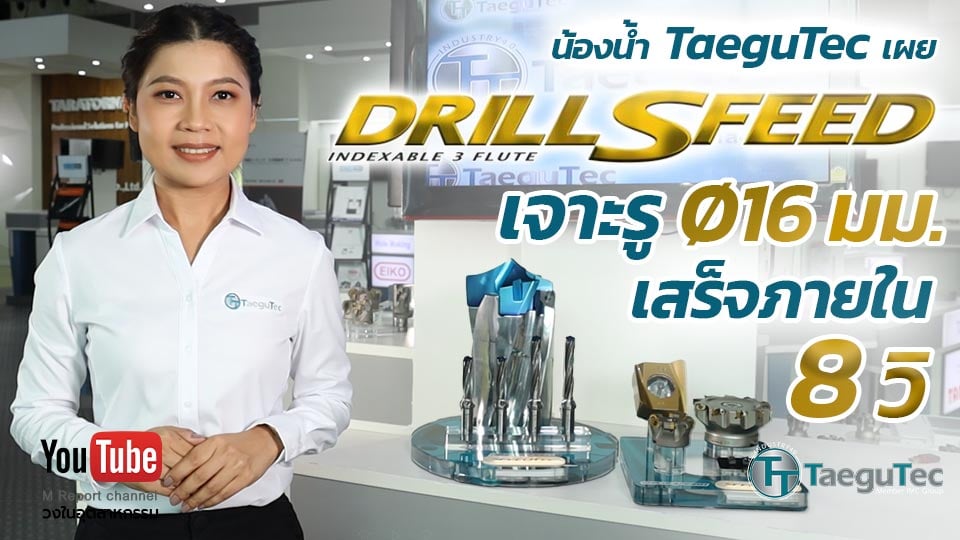 DRILL-SFEED: Head Changeable 3-Flute Drill for Higher Productivity
TaeguTec has introduced the DRILL-SFEED, a new head changeable 3-flute drill.
TaeguTec's DRILLRUSH line, which has been meeting customer's needs with outstanding machining and convenience, has released a 3-flute drill with upgraded clamping structure designed to maximize productivity.
3-flute geometry improves productivity by more than 50%

Highest machining stability due to its unique edge geometry

Excellent hole precision due to its superior self-centering capability

Reduced cutting load

Internal coolant through type means smooth chip evacuation

The latest coating grade for excellent tool life

Simplified drill head exchanging for reduced downtime

Suitable for steel and cast iron machining

Drill diameter range: 16.0 - 20.5 mm (0.5 mm units)
Consult all techniques for hole machining, save time, excellent results, and lowest cost with Kamonrat Saeheng (Nam), Sales Engineer, TaeguTec (Thailand) Co., Ltd. at Facebook@TaeguTecThailand. Don't forget to stop by and say hi to Nam!
For further technical questions, please contact TaeguTec Thailand.
www.taegutec.com
Tel: +662 759 9300
Email: poramate@taegutecthai.co.th


#หัวเจาะ #DRILLSFEED #DRILL-SFEED #หัวเจาะ DRILL-SFEED #ดอกสว่าน DRILL-SFEED #ดอกสว่าน HSS #ดอกสว่านไฮสปีด #เครื่องมือตัดเจาะ #SFEEDDRILL #DRILL-RUSH #TaeguTec Thailand #TaeguTec #Hole Machining #Large Hole Machining #drill heads #เจาะรู #เจาะรูขนาดใหญ่ #เม็ดมีด #เม็ดมีดเจาะ #อินเสิร์ท #เม็ดมีดอินเสิร์ท #Korea #ตัดเฉือนโลหะ #CuttingTools #Metalworking
Source : M Report