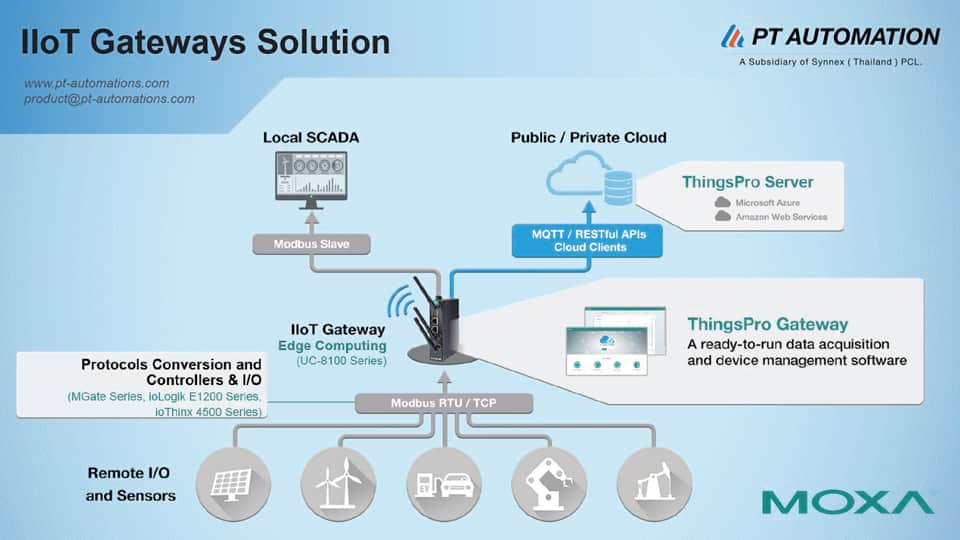 IIoT Gateways Solution. IIoT Edge Gateways, ThingsPro® Software and Protocols Conversion & I/O
One of the major challenges faced by users in IIoT project is the encounter with variety of field device protocols and are industrial protocols that were not designed for remote data transmission and are not compatible with IT-based SQL protocols. Therefore requires various tools to communicate with IT applications and databases on the cloud gateway.
PT Automation (Thailand) Co., Ltd. provides the IIoT Gateways Solution. The integrated communication, computing, data acquisition, and wireless networking solution with industrial grade abilities to manage sensors from edge device to the cloud servers. All of this, we can study and choose suitable devices to increase efficiency and reduce system complexity.
Simplify the IIoT project with the IIoT Edge Gateways
Moxa's IIoT Edge Gateway family consists of edge computers (UC Series), the palm-sized edge computers are built around low-power Intel Atom® or Arm processors. In addition, a wide temperature range of -40 to 70°C that is optimized for Industrial IoT applications in solar, wind power, water and wastewater, oil and gas sectors and with 4G LTE support makes well suited for communication applications in the field.
Moxa's Computer Edge Gateway comes with optional IIoT software, Moxa's ThingsPro® Suite, simplifies the integration of i/o data with the cloud. ThingsPro provides multiple OT and IT connectivity options, including Modbus and generic MQTT/HTTPS protocols, and comes with clients to connect to AWS and Microsoft Azure cloud services. An application ThingPro's RESTful APIs you can use to build an on-site dashboard or use the device management server utility to mass configure or manage field gateways and connected devices.
Protocol Gateways. Create an automated network to make all communication levels possible
Many system operators know the benefits of automation networks, to optimize production and efficiency and reduce operational costs, more and more industrial automation operators are taking advantage of industrial Ethernet-based networking options—including PROFINET, EtherNet/IP, and Modbus TCP—for the centralized control of real-time data. That is the easy way to connect SCADA/PLCs and devices that use different protocols (e.g., you may need to connect an EtherNet/IP PLC to a Modbus RTU device) by using the Protocol Gateway Devices (Moxa MGate Family) to consolidate your edge connectivity.
Moxa latest launched "Moxa's ioThinx 4500 Series" the IIoT-ready modular controllers and I/Os that feature programmable language capability, cloud connectivity, high computing power for precision control, and system-wide cybersecurity. Tailor-made for IIoT applications, the compact, intelligent, and secure provide I/O-to-cloud connectivity and IT/OT protocol convergence. ioThinx 4500 Series controllers and I/Os have been placed in the winner category of the Red Dot Award: Product Design 2019. Which both MGate Series and ioThinx Series you can choose to work according to the requirements of each device.
Contact us:​
PT Automation (Thailand) Co., Ltd.
433 Sukhonthasawat Rd., Lat Phrao, Bangkok, Thailand 10230
Email : product@pt-automations.com
Tel: +66(2)077-6898
www.pt-automations.com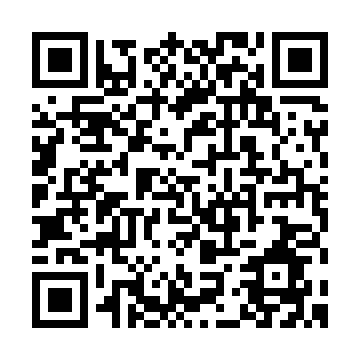 Source : PT Automation (Thailand) Co., Ltd.