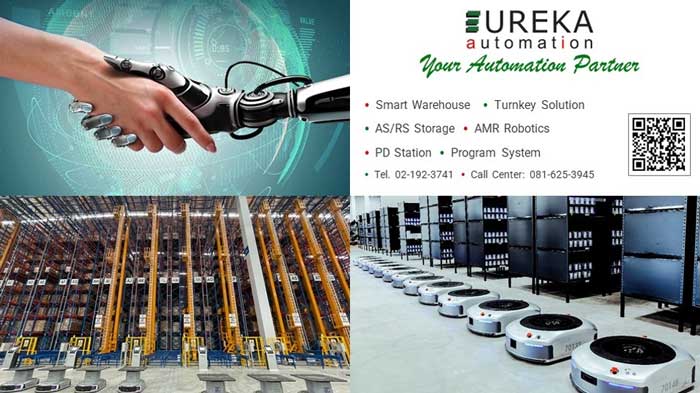 'Smart Warehouse & Logistics' by Eureka Automation, a professional system integrator for AI robotics & automation systems
Eureka Automation is a Professional System Integrator, specialize in Robotics and Automation Systems. With 20 years of experience, the company provides an Engineering Services Solutions to several industries such as automotive, electronics, food and beverages as well as warehouse and logistics business as a strategy "Your Automation Partner".
Machines, Production Automation, Logistics Automation are not only support of mechatronics engineering but also provide an artificial intelligence (AI) solution to the customers. It enables users to dramatically improve the production capability and storage efficiency as well as workflow functionality.
Eureka 'Smart Warehouse' provides a turnkey solution for customers around the regions, including design, manufacturing, installation & commissioning, and after-sale services with cost-effective machines which meet international standard and advanced management system.
The automated applications, not only supports wide range of AS/RS, but also operates in 'Robotics for Logistics' such as AMRs Picking System, Moving System, and Sorting System in both general warehouse and cold storage via intelligent Warehouse Management System (iWMS).
The system gives companies great advantages over their competitors, in respect of cost reduction, improved productivity, superior services as well as safety concern.
By applying robotics and AI technologies in market through "Industry 4.0" and Thailand government policy – "Security, Prosperity & Sustainability", Eureka provides intelligent technology with great efficient, high accurate, well reliable, and flexible experiences to you, to transform "Automation cost" into "Automation value".
For more information, please contact
Eureka Automation Company Limited
Tel : 02-192-3737 ต่อ 404 (Sales)
Hotline : Call Center 081-625-3945
Email : marketing@eurekaautomation.co.th
Website : www.eurekaautomation.co.th