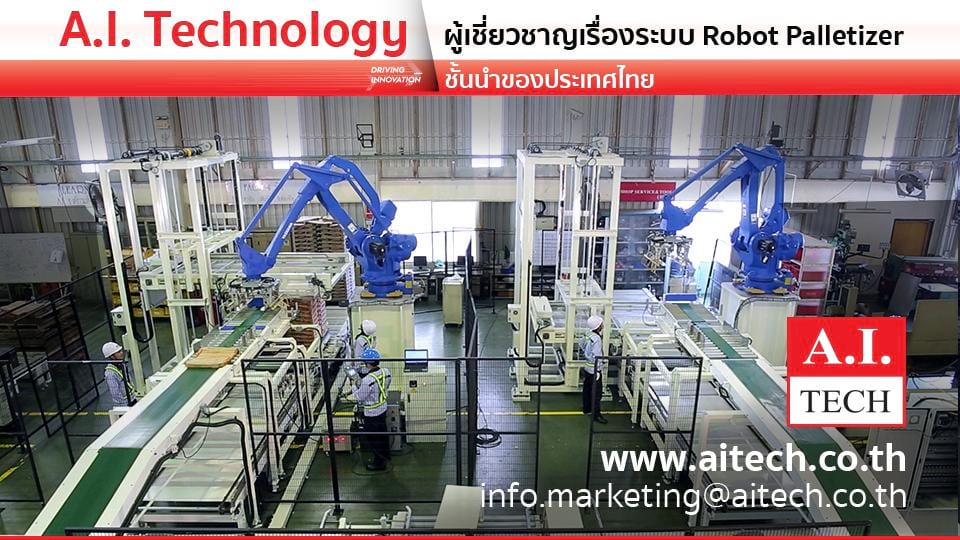 Maximize your profit with "Ready-to-use" "Fully-automated" Palletizing Robot System by A.I. Technology to optimize cost and improve operational efficiency.
For every industry in need of efficiency improvement in applications like layer stacking, heavy load picking, implementation of Palletizing Robot System from A.I. Technology is the ultimate solution to your problems.
Moreover, the application where products are ultra-heavy, are located in intoxicated area or are extreme in temperature limit human labor for safety concerns and human ergonomics. This is the stage where automated palletizing robot will shine and do all works humans cannot personally do by themselves.
Depending on the application, this automated robot system can be beneficial in long-term cost optimization and can give competitive edges to all businesses.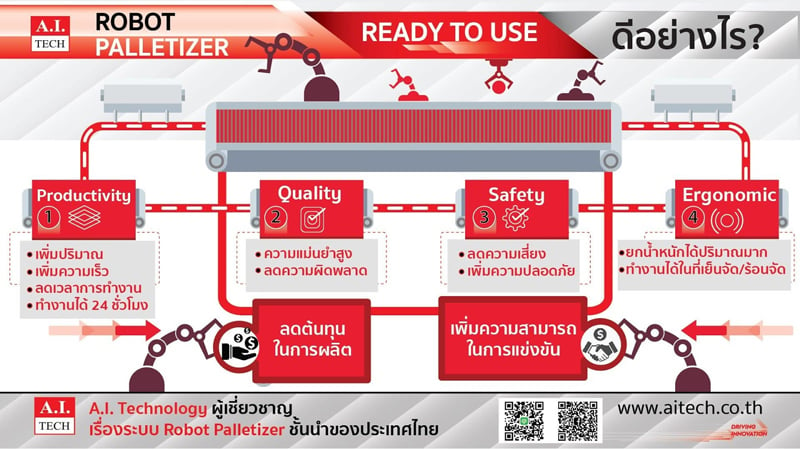 As the leader of Automation and Machinery provider in Thailand, A.I. Technology has developed a proven automated palletizing robot system customizable to all application in various industries. This "Ready to Use" palletizer can be tailored to specific needs such as pattern and layer stacking, conveyor and picking speed, and is compatible with various kinds of products i.e. boxes, bags, cans, plastic/glass bottles, cartons, ...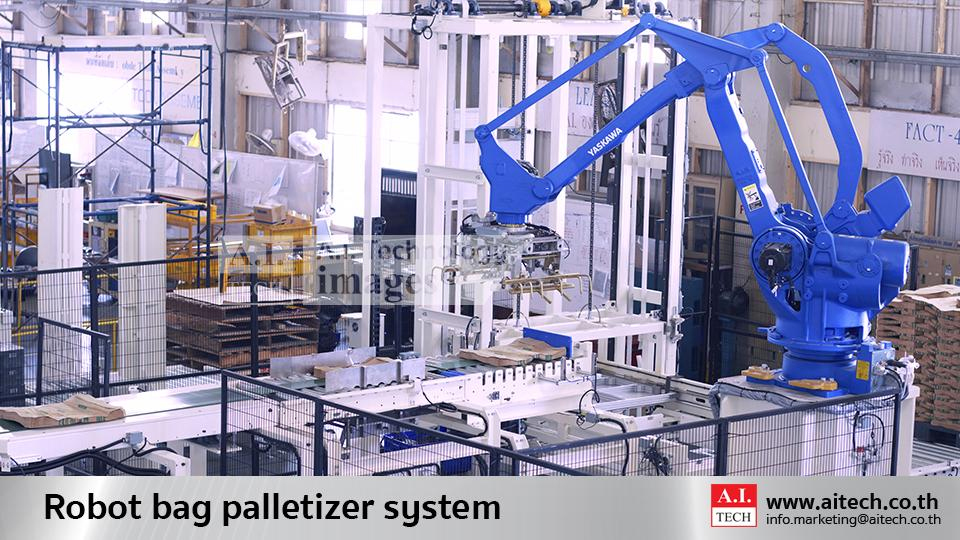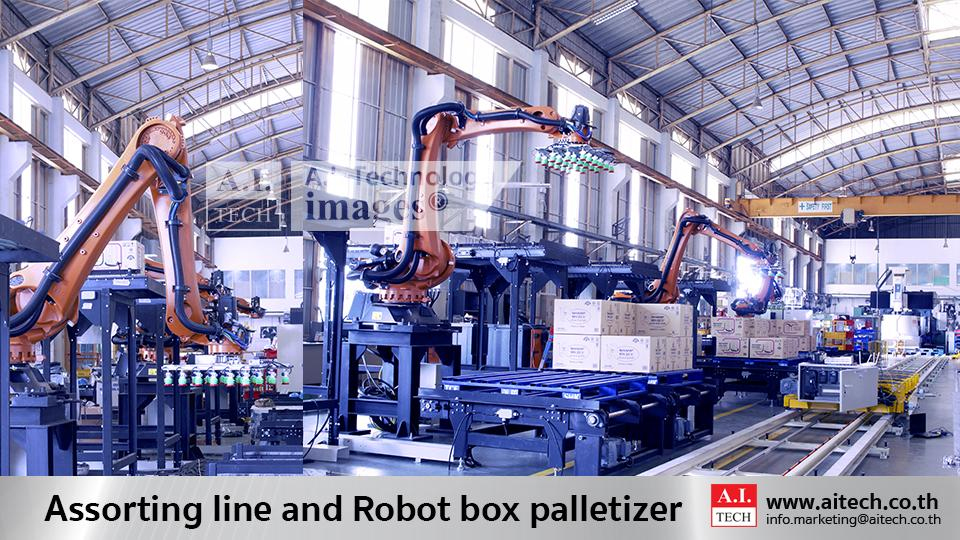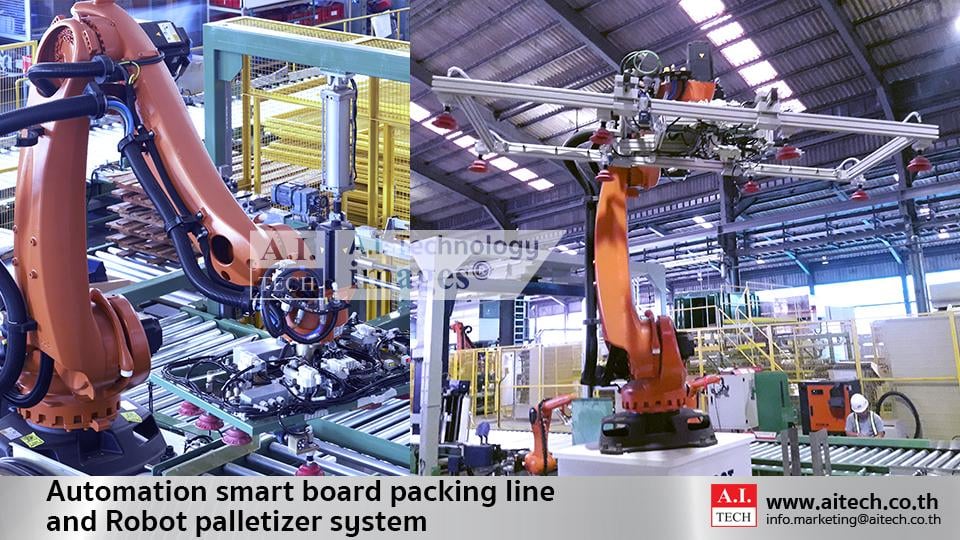 With trusts and confidence from various industry leaders, we proudly offer you the most tailored solution from design and implementation to aftersales services.
Demo clip of "Ready-to-use" Fully-automated Palletizing Robot System
Palletizing in cold storage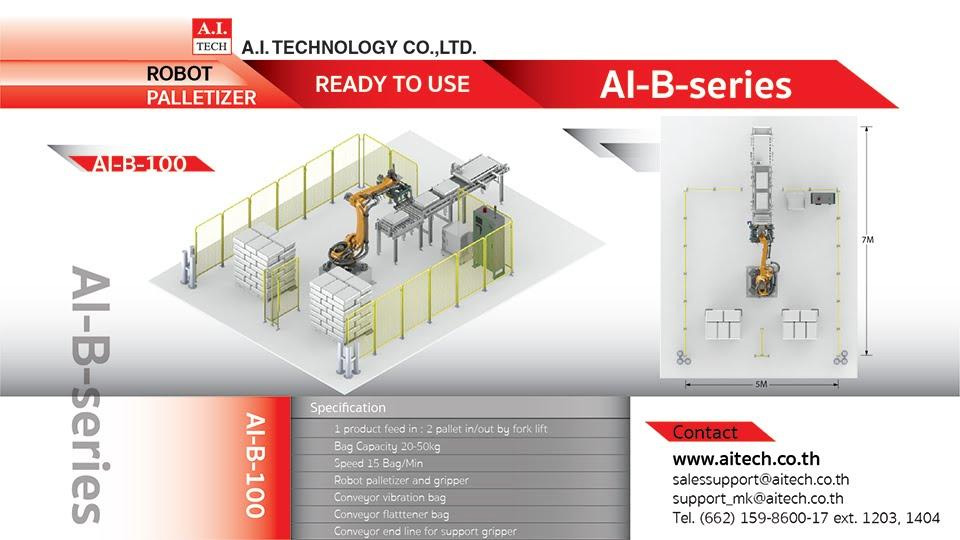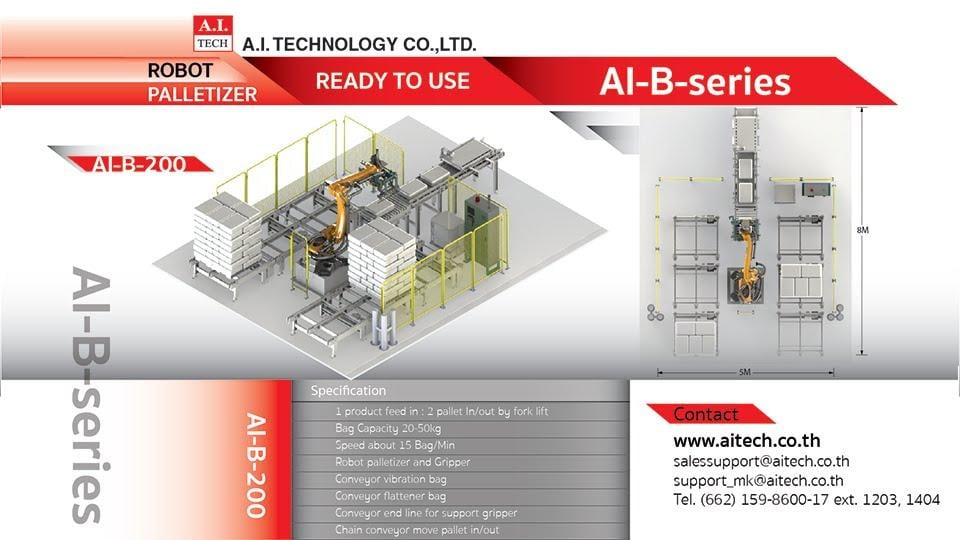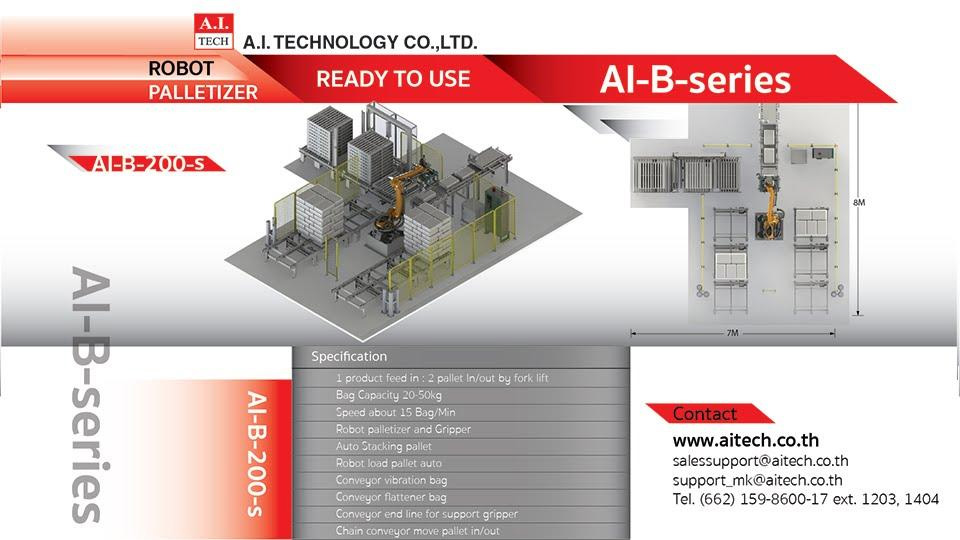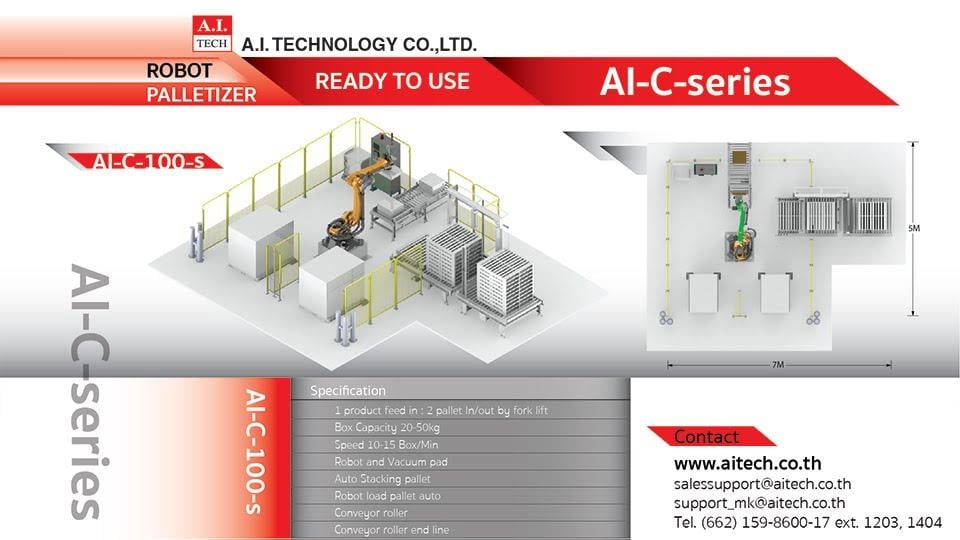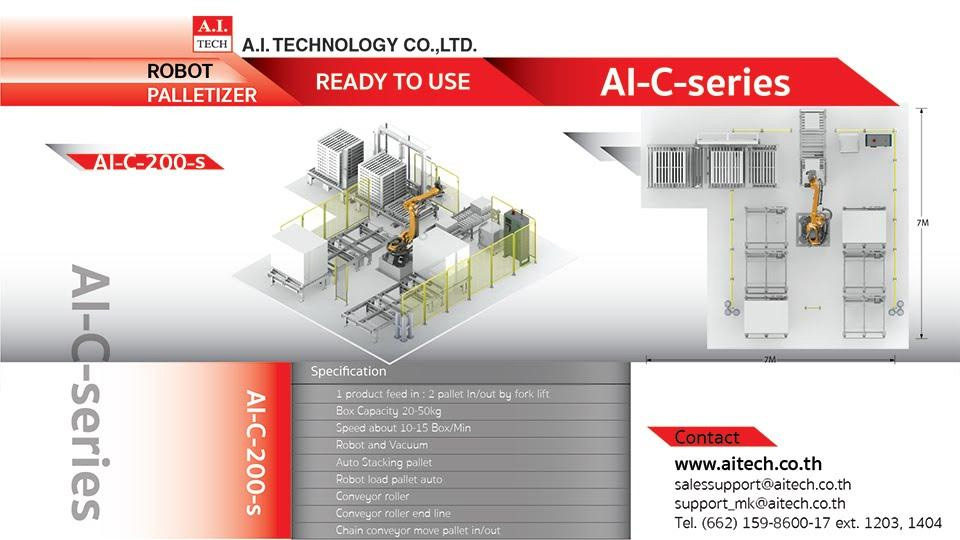 Confident in A .I.Technology to invent the best solution for your industry because we are the complete expert in the field of Automation Machine Manufacture.

A.I.Technology ... One Stop Solution for Factory Automation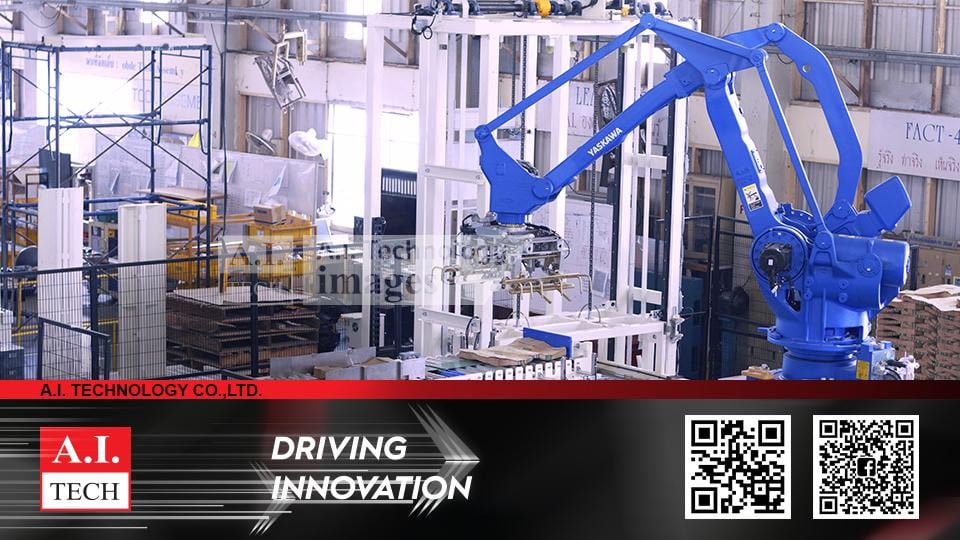 บริษัท เอ.ไอ.เทคโนโลยี จํากัด
56 หมู่ 9 ถนนลาดหลุมแก้ว-ปทุมธานี ตําบลคูบางหลวง
อําเภอลาดหลุมแก้ว จังหวัดปทุมธานี 12140
โทรศัพท์ : (+66)2 159-8600-17 ext. 1404,1409
Website : http://www.aitech.co.th Email : info.marketing@aitech.co.th
Source : A.I.Technology Co.,Ltd.