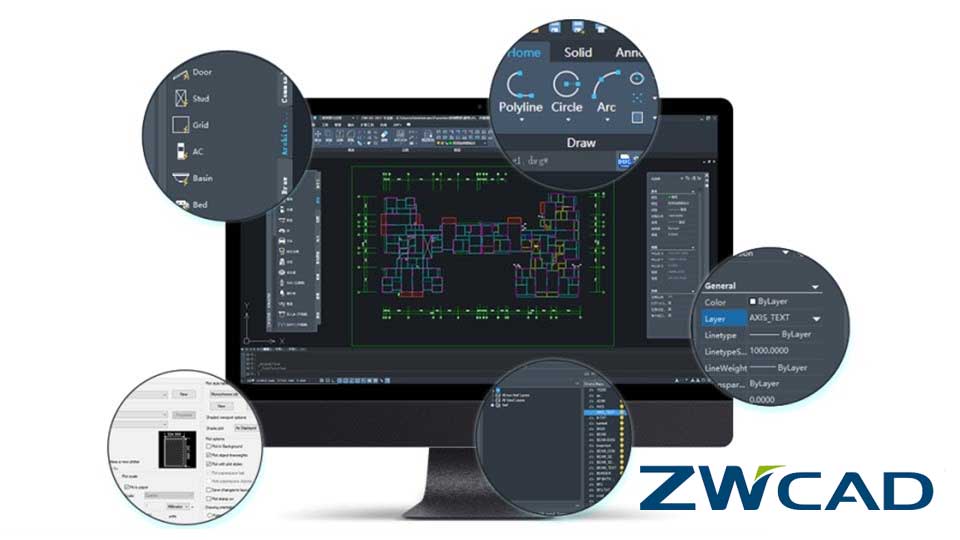 ZWCAD/ZW3D - Reliable CAD/CAM Software for DWG Files and 3D Modeling
Over 900,000 clients from various industries in 90 countries have proven the value of ZWCAD and ZW3D for over 20 years.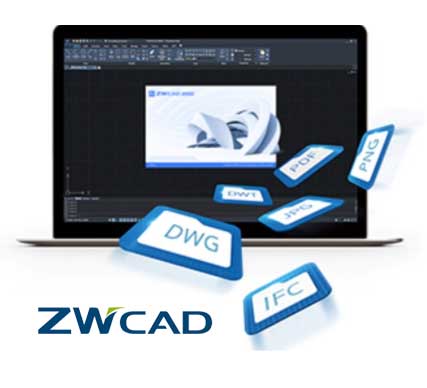 ZWCAD Is a Versatile 2D CAD Platform
ZWCAD possesses high compatibility, supports the seamless transition between mainstream CAD file formats (DWG, DWFx, etc.) that enables users to view, edit, and share the drawings. In addition, it supports easy-to-use commands, you could get started immediately with the intuitive CAD commands and alias.
ZWCAD would boost your design efficiency by processing files faster and useful features like Design Center and Tool Palettes. And there are innovative functions that enable you to trigger commands with mouse gestures, make annotations on drawings with recorded voice, select objects quickly with multi-filter, or to plot frames in batches from the model space.
ZWCAD supports APIs including LISP, VBA, ZRX, and .NET for developing or porting more vertical applications smoothly, furnishing users with specialized solutions.

All in all, ZWCAD has these advantages: fast and stable, smart and flexible, compatible and efficient.
ZWCAD is a 2D CAD platform software developed by ZWSOFT. It's compatible, efficient, stable and flexible for professional design. The speed of operation is comparatively fast even for complicated design cases. ZWCAD is furnished with intelligent functions, full DWG compatibility, intuitive interfaces, and easy-to-use commands for users to get started quickly and do efficient design.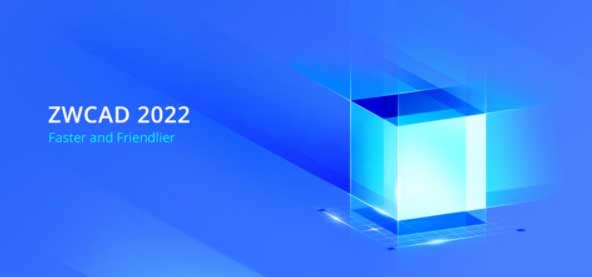 What's new in ZWCAD 2022
ZWCAD Keeps Becoming Faster and Friendlier. In ZWCAD 2022:
Drawing opening and zooming are comparatively faster by 40%
Panning and creating polylines are comparatively faster by 80%
Modifying is comparatively faster by 60%
Plotting is comparatively faster by 30%
Moreover, advanced features were developed to meet the needs for quicker delivery of projects. You could convert a 3D object into a 2D image from the current view instantly with Flatshot.
The Associative Array allows you to copy multiple items swiftly under certain rules. You can easily adjust them by dragging the grips of the arrays.


Persistent Advancement for Friendlier Experience
Besides faster operation, ZWCAD 2022 is friendlier in using experience. ZWCAD licenses can be activated by scanning specific QR codes.
You are free to use the familiar Classic interface, or Ribbon interface, or both interfaces at the same time. Meanwhile, you could change the sizes of viewports or create new ones by dragging the edges.
Now, mainstream IFC files can be imported to ZWCAD 2022. Using 3D Orbit, you could view the BIM model freely. To check its details, simply click the parts in the model space or the structure tree of the IFC Structure Panel. Another bonus is that you could extract and export such model information by Data Extraction.

ZW3D Is a Powerful 3D CAD/CAM Solution
ZW3D is an integrated 3D CAD/CAM solution powered by Overdrive, a self-developed 3D geometric modeling kernel. It is designed for the whole process of product development from designing to manufacturing, and features the fastest kernel for solid-surface hybrid modeling, non-solid mold parting and smart CNC machining strategies from 2-axis to 5-axis.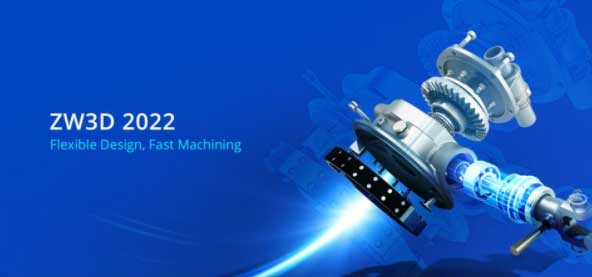 How ZW3D Can Help You
ZW3D speeds up your product development and helps you grasp marketing opportunities through intuitive 3D visualization & parametric design.

Since 3D data are unified in one integrated system, the coordination among the product R&D, engineering, and manufacturing departments is easier.

With flexible and powerful modeling capabilities, you can optimize product R&D workflow, improve design efficiency and deliver more creative and personalized product designs to customers.

With the whole-process 3D mold design module and the non-solid mold parting technology, ZW3D helps you shorten the time of cost evaluation, quotation and mold design, get orders faster and improve mass production efficiency.
ZW3D helps customers shorten production cycles and save tool cost with the clear and easy-to-use CAM workflow, intuitive UI, automatic feature identification, tactic machining capability, QuickMill technology, and high-performance roughing strategy VoluMillTM.
What's New in ZW3D 2022
Single Root Object Mode: The single root object mode is more user-friendly for you to create and manage object files easily. You can integrate them into the PLM system.
G3 Continuity: You can create G3 continuous curves now to streamline your design.
Piping Design Module: With this newly added module, it is more convenient than ever to design pipes with flexible routing ways, a vivid display of flow direction, rigorous specifications, powerful editing functions, etc.
Optimized STEP File Parsing: The parsing of STEP files has been remarkably advanced. When importing, it takes nearly 50% less time on average; when exporting, the parsing of geometries is enhanced.
Smart Measure: The new Smart Measure provides you with all the basic info of almost any object clearly in the Part and Assembly environments.
Improved Command Workflow: The workflow of many commands has been improved. Take Fillet as an example, a single fillet feature records all the fillets in the entire model, tidying up the modeling history.
Flatten: The new Flatten command allows sheet metal designers to observe the real-time flattening effect of the sheet metal and generate relevant 2D drawings more quickly.
Speedy QuickMill Toolpath Calculation: Thanks to the multi thread parallel calculation technique, the generation of QuickMill toolpaths was accelerated by about 50%.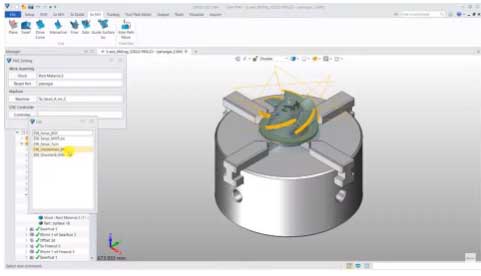 Upgraded Full Machine Simulation: Not only can the milling NC code of Siemens® and Heidenhain® be simulated, but also a 5-axis Head A on C Type Machine has been added.
As productivity tools, ZWCAD and ZW3D are continuously enhanced to meet users' diversified requirements. Now, their latest 2022 versions are available. Take a 30-day trial for free! >>ZWCAD >>ZW3D
For more information, please contact ZWSOFT CO., LTD. (Guangzhou)
Tel.: +86-20-38289780
Email: sales@zwsoft.com; marketing@zwsoft.com
เว็บไซต์ www.zwsoft.com
Thai Customer Success Story, view at youtu.be/0z1p6hTaMoQ

#โปรแกรมออกแบบ ZW3D #โปรแกรม cad cam #ซอฟแวร์ที่ใช้งานออกแบบ3มิติ #โปรแกรมสร้างภาพสามมิติ #โปรแกรม ช่วยเขียนแบบ #โปรแกรมเขียนแบบ 2 มิติ #การสร้างภาพ 3 มิติ #โปรแกรมสร้างโมเดล 3D #โปรแกรมออกแบบ 3 มิติ #โปรแกรมออกแบบเครื่องจักร #โปรแกรม ออกแบบ ไลน์ผลิต #โปรแกรมเขียนแบบ 2d ฟรี #software เขียนแบบ #โปรแกรมออกแบบแม่พิมพ์ #โปรแกรมออกแบบ #โปรแกรมเขียนแบบ #โปรแกรมเขียนแบบ มีอะไรบ้าง #โปรแกรมเขียนแบบก่อสร้าง #โปรแกรมเขียนแบบ 3d ฟรี #cad/cam software #cad cam #ZWCAD #ZW3D #ZWSOFT #M Report #mreportth #วงในอุตสาหกรรม #ข่าวอุตสาหกรรม
Source : ZWSOFT CO., LTD. (Guangzhou)