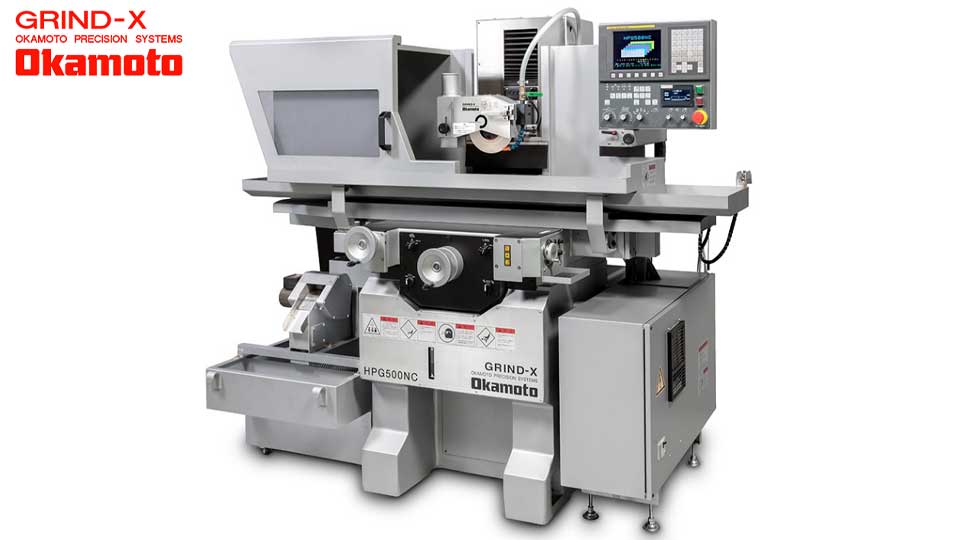 CNC High Precision Form Grinding Machine, HPG500NC series, OKAMOTO
Okamoto "HPG500NC series" the best CNC Form Grinding Machine equipped with user friendly controller for easy operation like a conventional grinder. High accurate positioning of vertical and cross axes with scale feedback system as standard, table driven without hydraulic system for green environment.
Features of HPG500NC series
Minimum increment 0.1μm of vertical & cross feed . Longitudinal & cross slides are double "V" shape. High-precision slideways perform by traditional scraping.

SUS cover is as standard, for long life span.

The rigidity of the spindle shaft is 1.45 times rigid than conventional models. Thanks for the wider frame design to increase rigidity of machine.

Using a hydraulic-less structure to eliminate the thermal displacement affected to structure. Promote green environment, and can reduce CO2 as 199.2 kg by eliminating the need for waste oil treatment.

Grinding wheel forming software is standard and simple with user friendly , Simplified for molding and grinding in combination with a 3-way dresser.

Vertical & Cross infeed is scale feedback system as standard, the spindle motor power is upgraded to 2.2Kw with spindle speed inverter as standard.

Additional with high speed table reciprocate function on HPG500NC. Easy to make high level of shoulder grinding, which is the best performance for Punch grinding requirement.
Conventional operation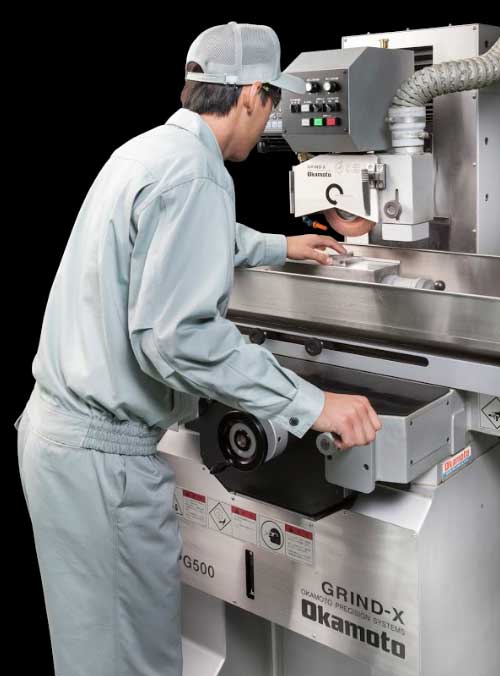 HPG500NC is possible to operate as conventional grinding. When processing as manual function same as in the conventional machine, it is also possible to process by operating the handle.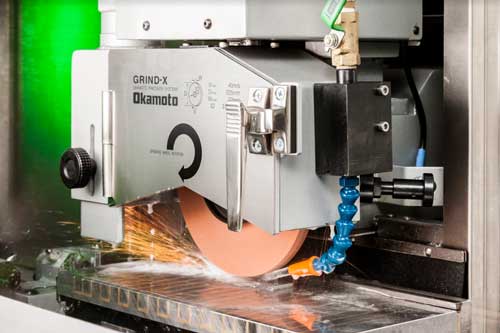 It can also be used as a normal surface grinding process.
CNC operation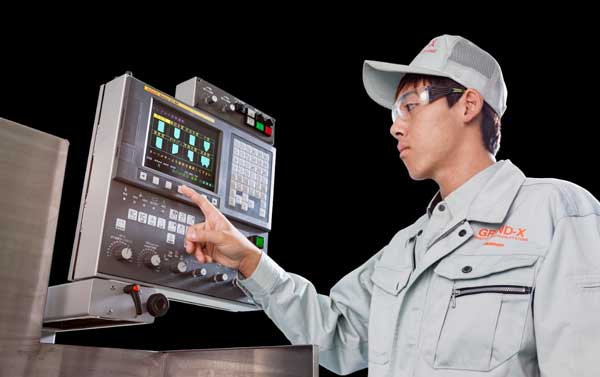 HPG500NC can also be processed as a CNC machine. The CNC operation panel is mounted on the right side of the column with swing arm possible to move to back and front. The standard conversation software grinding mode are available as【PLUNGE】・【TRAVERSE】・【SIDE】・【TAPER】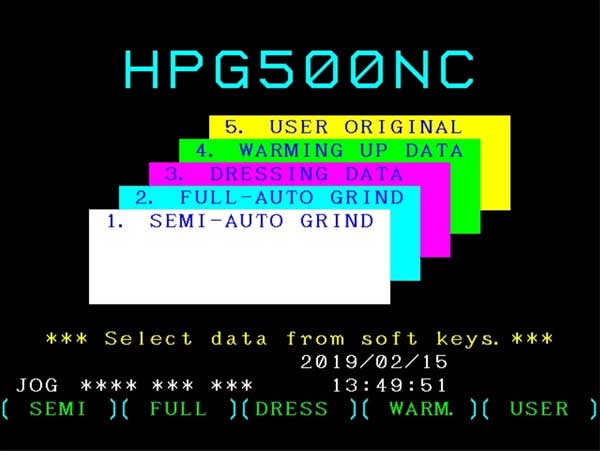 3-way dresser is standard.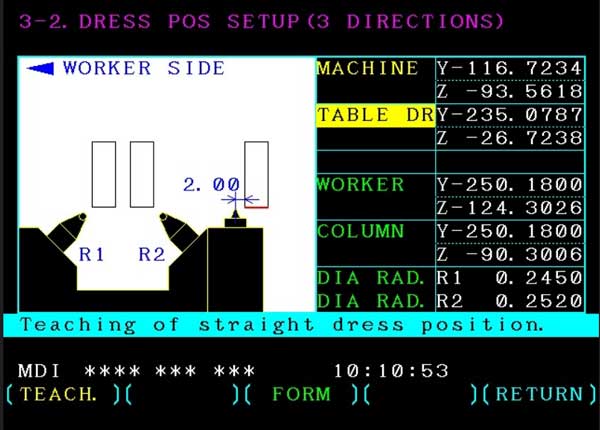 Automatic dressing during processing made easy.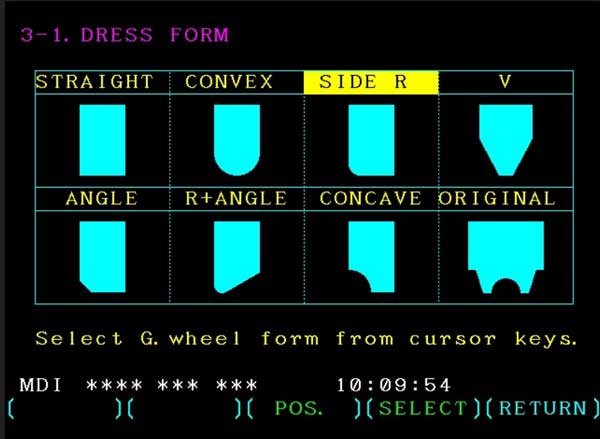 By combining a 3-way dresser and a dialogue program, various grinding wheel forming are available. The standard conversation software for 【STRAIGHT】・【FULL R】・【SIDE R】・【V】・【TAPER】・【R+TAPER】・【FREE】・【ORIGINAL】 with single press selection.
Mirror finish is possible by using the DIAMOND or CBN wheel.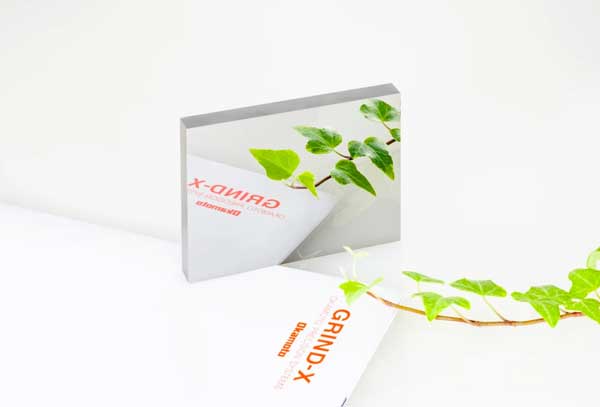 Slot pitch grinding can be done by forming wheel shape and grinding with a thin grinding wheel.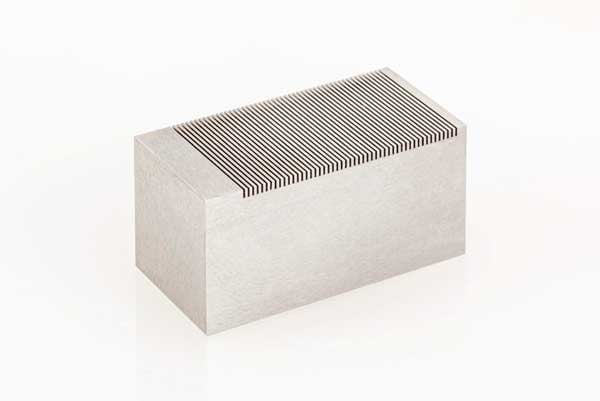 Interested please contact:
Okamoto (Thai) Co., Ltd.
174 Mu2, T.Chamaeb, A.Wangnoi, Ayutthaya 13170
Email : sales@okamotothai.com
www.okamotothai.com
Source : Okamoto (Thai) Co., Ltd.