Sodick released an interview: Tanaka Foresight Inc. Eyeglass manufacturers in Japan.
Sodick released an interview: Tanaka Foresight Inc. insisting on manufacturing in Japan, and offering suggestions for simple eyeglass frames with a presence all their own.
Shotaro Tanaka, Chief Executive Officer, revealed that, "We are actively installing Sodick machining tools and molding machines to help us grow as a manufacturer."
Tanaka Foresight is a manufacturer of eyeglasses based in Sabae City, Fukui Prefecture, that focuses on eyeglass components for use around the nose, such as the nose pads and pad arms, as well as crafting complete eyeglass frames. Amid the growing prevalence of eyeglass frames made overseas that cost just a few thousand yen, Tanaka Foresight is dedicated to crafting products here in Japan, and offer a succession of proposals for frames that are simple but at the same time, offer added value by capturing the imaginations of its users. The company offers a comprehensive range of lineups for different ages and lifestyles, and is gaining market recognition through direct sales.
They specialize in titanium frames with appealing designs and pads made of biodegradable plastic that are easy on the skin, and say that Sodick machining tools and molding machines play a vital role in the manufacturing of these. Tanaka Foresight is putting a great deal of effort in automating their manufacturing and making it more efficient, and hope to achieve further growth by installing new equipment.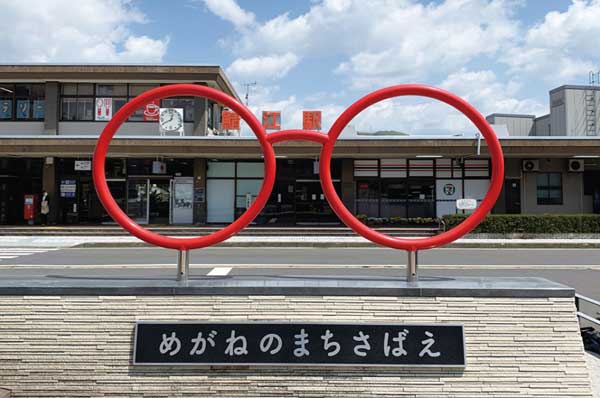 Sabae City, Fukui Prefecture, where eyeglass manufacturers and parts manufacturers are gathered.
Sabae City is a leading area for eyeglass frame production in Japan, and is home to many manufacturers of eyeglasses and eyeglass parts. People began making eyeglasses in the early 1900s in Shono, Asouzu Village, Asuwa-gun, Fukui Prefecture (now Shono-cho, Fukui City) as a way to earn income during the winter months when farmers were not busy, and this eventually spread to Sabae City. Currently, approximately 90 percent of eyeglass frames manufactured in Japan are made in Fukui Prefecture.
Tanaka Foresight was founded in 1945. Company president Shotaro Tanaka's grandfather started a company selling eyeglass parts, and the company came to supply parts to the eyeglass factories that were proliferating in Fukui Prefecture at the time. In 1958, Mr. Tanaka's grandmother began to produce parts under the name "Tanaka Kiyo Rivet Inc." "Eyeglasses were first made in Italy, and in Japan, first proliferated in Tokyo and Osaka before spreading to Fukui. My grandparents came to Sabae from Osaka, and so had no fields to serve as capital, making it difficult to put together any large-scale manufacturing facilities, so initially they worked away with small machines such as hand-operated presses to make parts," he says.
The company began by producing small parts such as the decorative rivets used in the opening and closing sections connecting the front of the glasses to the temple, and gradually expanded its activities to encompass pads and bridges (the parts that rest on the nose and connect the left and right lenses).
Going against the convention that says that eyeglass manufacturing is divisible labor
Although Tanaka Foresight has been manufacturing eyeglass parts for more than 60 years, this is not a company that has been passed down through the generations as a matter of course. From Shotaro Tanaka's grandfather to his father, and then from his father to him; with each transition a new company was formed that then purchased the original, a repetitive process of searching for new forms of business. Tanaka Production Co., Ltd. established by Shotaro's father in 1972, started out manufacturing silicone pads in cooperation with a materials manufacturer, while also participating actively in international eyeglass fairs held in Milan, Italy, and Paris, France, as it sought to break into overseas markets. "I was also told by my father that I should take out a big loan and buy out the company, then I could do what I wanted with it afterwards, and that's what I have done. I think that setting up my own company let me maintain my enthusiasm as a founder," says Mr. Tanaka.
From 2000 onwards he served as company president at Tanaka Production Co., Ltd.—the company his father started—and in 2005 he established Tanaka Foresight as a real estate management and holding company. In 2007, Tanaka Foresight took over all Tanaka Production operations. Although Tanaka Production had established itself as a parts manufacturer, Mr. Tanaka, as top manager in the company, had it mind to become a frame manufacturer that can even turn its hand to final products.
"Division of labor is key to the making of eyeglasses, which undergo 180 processes, with parts manufacturer assuming a clearly distinct role from frame manufacturers that collect parts from parts manufacturers for assembly into the final product. Parts manufacturers that switch to being frame manufacturers tend to fail—its almost like a jinx. I was young, which was a factor, and I worried a lot at the time about when we should change our business model," says Mr. Tanaka, looking back.
Proposal for an integrated frame consisting solely of screw-ons
The turning point came several years ago. After exhibiting for the first time in more than a decade at the international trade show held in Milan, and announcing a new frame concept, new orders began to stream in from Europe-based frame manufacturers. The concept they had announced was for a titanium frame. So-called "integrated frames" made from a single sheet formed on a press, these frames are characterized by a sharp, refined image without any connecting areas. Since all of the component parts in these frames are fixed in place with screws, the frame manufacturers that purchased them are able to combine them with the parts they like.
"At the time, the world was increasingly relying on China to produce eyeglass frames, and frame manufacturers in Europe were losing the techniques and equipment needed for tasks such as the assembly and plating of parts, and surface treatment. Under such circumstances I felt that offering frames with an attractive design consisting of solely of connecting screws would allow each company to combine the parts they liked to create original eyeglasses." (President Tanaka)
Just as was planned, other companies bought titanium frames from Tanaka Foresight and combined them with items such as buffalo horn parts to develop their own original brands.
The concepts Tanaka Foresight offered were well received, leaving Mr. Tanaka thinking that they were just a step away from becoming a frame manufacturer. To strengthen the company's production systems, they installed a succession of machines they had never had before, such as electrical discharge machines, machining centers, and presses. The company also integrated management of a design company, and immediately adopted the current system, which handles everything from planning of frames to design, mold design and manufacture, press working, welding, and assembly. At a time when even large manufacturers of frames concentrate on assembling parts, entrusting mold manufacture and parts molding to other companies, Mr. Tanaka's strong desire to bring manufacturing back to Japan was what lay behind his decision to make such a significant capital investment.
He says that encountering Sodick at this turning point was an extremely significant event.

Integrated titanium molded eyeglasses without welds.
Experiencing Sodick's support capabilities
Tanaka Foresight first purchased Sodick products in 2017. These were the TR40EHV single-action vertical injection molding machine and the TR20VRE rotary-type vertical injection molding machine, for use in molding the pads that the company had been making since the Tanaka Production Co., Ltd. days.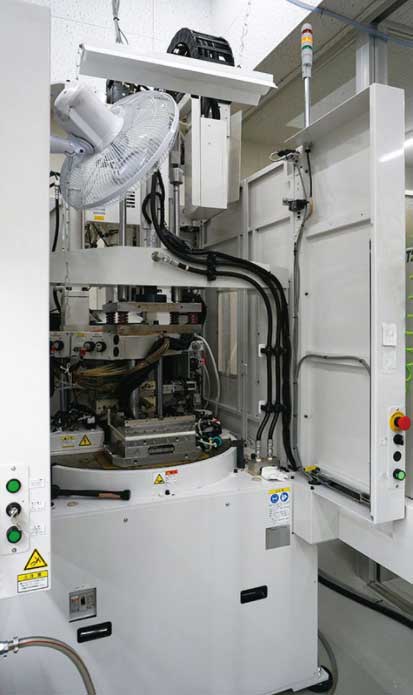 Switching to Sodick molding machines, reducing material loss by 85%.
The molding machines that they had previously been using were old and were unable to produce stable molds, and in some seasons had a failure rate that approached 20 percent. Faced with such difficulties, Mr. Tanaka reached out to a plastic mold manufacturer where he had worked in the past, and says that they suggested Sodick as a good local manufacturer with offices in Sakai City in Fukui Prefecture.
Switching to Sodick molding machines had a dramatic effect. Both machines feature Sodick's proprietary V-LINE® plasticizing injection system, which separate the plasticizing and injection processes to provide stable molding. This brought the failure rate close to zero. Additionally, material losses dropped by 85%, allowing the company to reduce costs by tens of millions of yen per year.
The reduction in material loss was thanks to Sodick's expertise in injection molding. Currently Tanaka Foresight uses the TR40EHV to coat metal insert parts with thermoplastic nylon resin, following which the TR20VRE is used to coat the results with thermosetting silicone. Previously the company had used hot runner molds to mold silicone, but with support from Sodick they installed cold runners, significantly reducing material loss by eliminating the need for the runners that are discarded. They also increased the yield obtained from a single mold, successfully improving efficiency.
Successful tests of injection molding machines prompted Tanaka Foresight to consider installing electrical discharge machines and machining centers, which naturally led Mr. Tanaka to consult with Sodick.
In response to his statement that he wanted to make a certain type of product, Sodick offered a proposal for an entire production system that included products such as tools and peripherals from other companies. "Sodick supported us in absolutely everything we did, which meant we were able to start a certain level of production at an early stage," says Mr. Tanaka.
He mentions that some companies, hearing rumors, came to Tanaka Foresight to observe, saying "We hear that if we have Sodick put together the whole production system, we'll be able to make frames."
Seeking to make simple frames with a presence all their own
Tanaka Foresight currently offers four frame brands: "Face fonts," "Points & Lines," "OTO," and "tsubura." Oriented toward women, the OTO brand is so popular that it has inspired imitation products to appear, and products made through collaborations with work from Kanazawa's Mizuhiki on the eyes and temples have also met with acclaim. The newest brand, tsubura, features pads molded from 100% corn-based biodegradable plastic. The antibacterial properties of the corn give these pads a characteristic gentleness on the skin.
All of the frames from Tanaka Foresight are based on simple designs, no matter what the brand. Conversely, at just under 50,000 yen (frame only) for an OTO product, they are far from cheap. In order to convince people to pay this price despite the availability of inexpensive frames on the market, Mr. Tanaka says he aims to offer frames that people will pick up and say, "Now these are nice!" despite their simplicity, rather than adding value by adorning them with jewelry or gold plating.
He notes that the performance and precision of the machinery used is essential to creating frames that are simple and yet possess a presence, and Sodick machining tools play a part here too. For example, after OTO titanium frames are press-formed, the high-speed UH430L (maximum spindle speed: 60,000 min-1) and TT1-400A (40,000 min-1) machining centers are used for detailed shaping and to carve out grooves to fit lenses.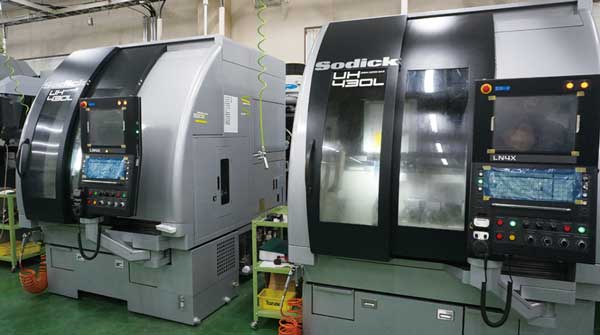 The high-speed UH430L machining center carves out detailed shapes and grooves​.
Cutting out a frame using a wire-cut EDM
What's more, the VL400Q and ALN400G wire-cut EDMs that the company had originally installed for mold processing are now being used for cutting out frames. At Tanaka Foresight, sheets with a thickness of 0.8 mm or less are cut by overlapping the sheets and cutting out frame shapes with wire-cut EDM, while thicker sheets are cut using a combination of press work and machining center cutting.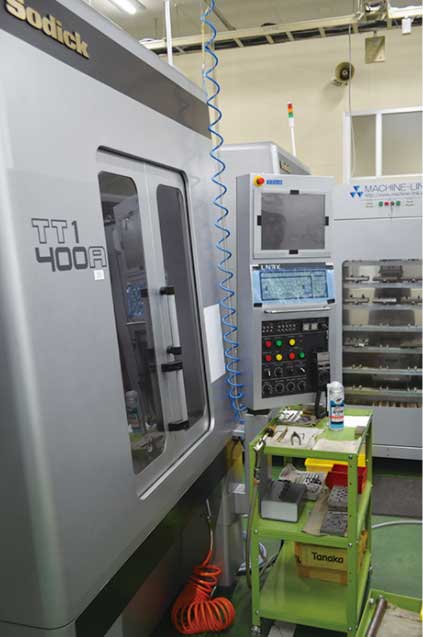 Work on automation by combining "TT1-400A"and robots.
Mr. Tanaka says that the reason the company cuts frames from a sheet using wire-cut EDM is that the speed of startup is important when bringing new products to market to meet a need, noting that cutting using wire-cut EDM is faster than designing and creating new molds to use for press working in mass production. He says that because the product concept behind all Tanaka Foresight frames is to use very thin sheets, using wire-cut EDM allows a great deal of flexibility.
Meanwhile, on the manufacturing front there is an urgent need to expand capacity. Tanaka Foresight manufactures its products at two sites: the headquarters factory in Sabae City and a subcontracting manufacturer in Higashiosaka City in Osaka Prefecture, which has all of its equipment supplied by the company. Going forward, the company will continue to upgrade and automate the equipment at both sites. The headquarters factory uses two machining centers in combination with multi-axis robots to operate 24 hours a day. One machining center processes the lens grooves in the frames, the workpiece is then transferred using a multi-axis robot, and the other machining center processes the frame screw holes. With "Never stop the machines" as their watchword, Tanaka Foresight is ready to automate insert molding as well as processing.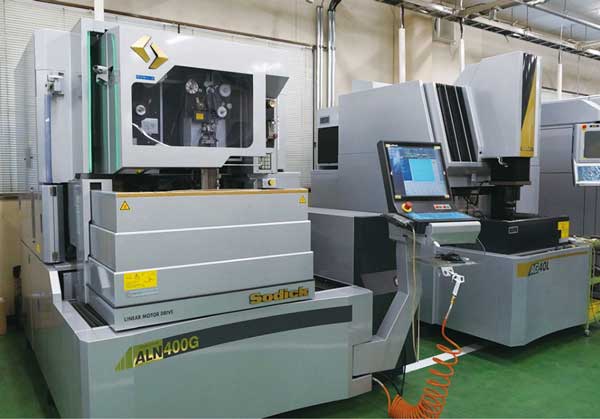 The ALN400G wire-cut EDM and AG40L die-sinker EDM are used for frame cutting as well as mold processing.
Taking manufacturing back to its roots
Tanaka Foresight has overcome the jinx that causes parts manufacturers that switch to being frame manufacturers to fail, and is gaining name brand recognition. At present, parts manufacturing accounts for 70% of sales, but the company has set itself the goal of reversing the ratio between parts and frames going forward.
Moreover, in a rare move for a small-scale frame manufacturer, they have established a retail space at their headquarters as a venue to promote their products, and say that eyeglass users come visit from inside and outside the prefecture seeking their frames. Tanaka Foresight is close to achieving Mr. Tanaka's dream of having Japanese customers wear eyeglasses made in Japan, not China.
He says that the reason he is so insistent on manufacturing in Japan is that, "Japan is a country that has made a name for itself by manufacturing and exporting goods, and I am proud of that. While services may expand based on digital technology, only a handful of companies are able to profit from it.
If Japanese manufacturers lose manufacturing techniques and know-how, young people in Japan will be unable to even have pride in their own country.
What we should be doing now is going back to our roots. To ensure that the next generation is proud to have been born Japanese, I think that we have to revive domestic manufacturing."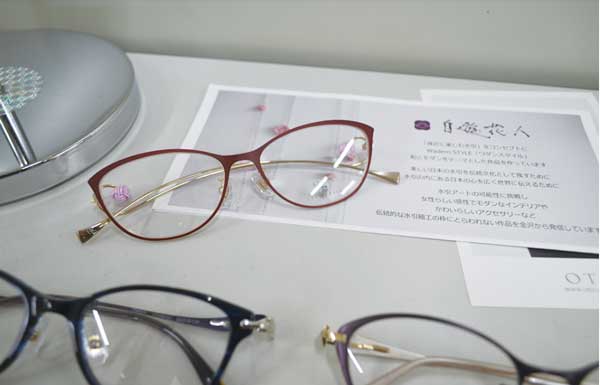 Source : Sodick Thailand