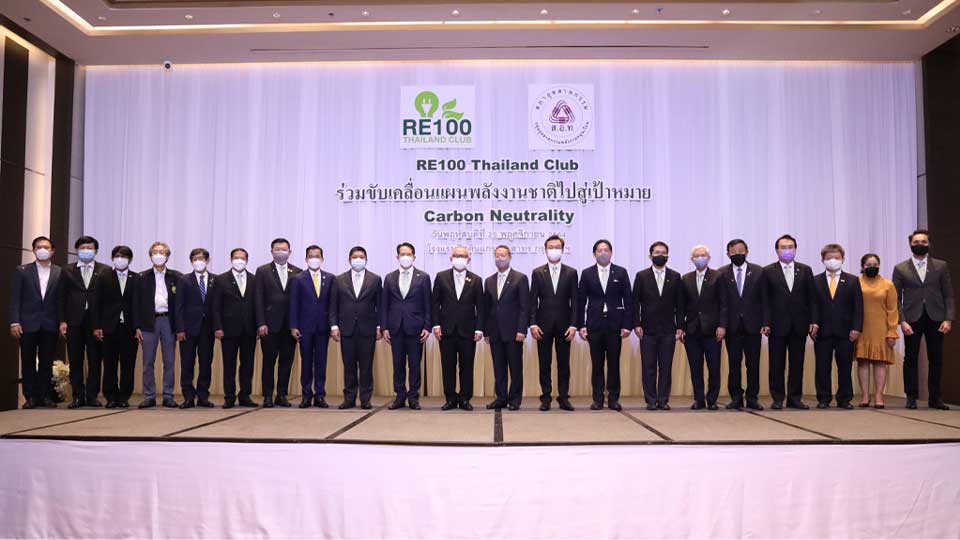 "RE100 Thailand Club and driving Thailand's Carbon Neutral/Net Zero Carbon Emission Goals
"RE100 Thailand Club and driving Thailand's Carbon Neutral/Net Zero Carbon Emission Goals
On November 25, 2021, The Renewable Energy Industry Club, Federation of Thai Industries, the Clean Energy for the People Foundation and the 19 founding members, namely NXPO, the School of Renewable Energy and Smart Grid Technology,Naresuan University, King Mongkut's University of Technology Thonburi,Rattanakosin College for Sustainable Energy and Environment Rajamangala University of Technology Rattanakosin, Super Energy Plc. Corporation PTT Plc. Energy Absolute Public Company Limited Export-Import Bank of Thailand Toyota Motor (Thailand) Co., Ltd. Central Group Co., Ltd. Central Retail Corporation PCL. Central Plaza Hotel PCL., Denso (Thailand) Co., Ltd. Alphacom Co., Ltd., Architect Council of Thailand Sahaviriya Steel Industries PCL., Bank of China and EGAT organized a meeting and seminar on "RE100 Thailand Club and Driving Thailand's Carbon Neutral/Net Zero Carbon Emission Goal" at Room Surasak 1 Room, 11th Floor, Eastin Grand Hotel, Sathorn, honored by Khun Supattanapong Punmeechaow, Deputy Prime Minister and Minister of Energy presided over the opening remarks of the seminar.
Khun Supant Mongkolsuthree, Chairman of the Federation of Thai Industries, said that the Federation of Thai Industries is aware of the importance of climate change in 2021 and has taken numerous actions towards adapting to the situation and to enhancing the potential capabilities of industrial operators and members of the FTI regarding reduction greenhouse gas emissions in a concrete way. For example, the appointment of the "Greenhouse Gas Emission Reduction Working Group", the signing of a Memorandum of Understanding (MOU) for information sharing by electronic means with the Energy Policy and Planning Office (EPPO), the establishment of a sub-working group on energy consumption data to reduce industrial greenhouse gas emissions (Big Data Climate Change) ,the signing of a Memorandum of Understanding for the development of a Thai carbon credit exchange platform with Thailand Greenhouse Gas Management Organization (Public Organization) (TGO), and so forth.
Khun Veeradej Techapaiboon, Vice President of Renewable Energy Industry Group, FTI and Chairman of RE100 Thailand Club, has informed that the vision of the RE100 Thailand Club group is to become a key driver for the demand and supply of renewable energy and carbon credit during the transition to 100% renewable energy at the corporate policy level . The group's vision also promotes renewable energy (RE) and energy efficiency (EE) as the main tool for Decarbonization through government operations in the field of Deregulation, Decentralization and Digitalization aiming to reduce global warming issues and maintain Thailand's economic competitiveness. The group has also determined a mission: to achieve Thailand's carbon neutrality goals and net zero carbon emissions by 2050 on a voluntary basis at the corporate policy level.
The targets for using renewable energy and carbon neutrality are as follows: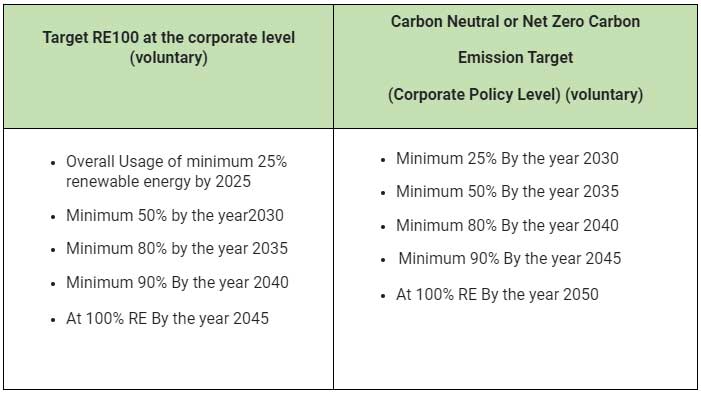 The RE100 Thailand Club's goal setting is in line with Thailand's Carbon Neutrality and Net Zero Emission policies, as announced by Prime Minister Prayut Chan-o-cha at a meeting of the States Parties at the 2021 United Nations Climate Change Conference (COP26) in Glasgow, Scotland
Currently, the RE100 Thailand Club has approximately 500 members, including founding member companies and their affiliates. Subsequently, members such as Toyota Motor (Thailand) Co., Ltd. have set a Carbon Neutrality goal for 2035, DENSO (Thailand). Co., Ltd. has set a target of the proportion of renewable energy (RE100) to 100% by 2025 and become the centre regarding carbon neutrality or net zero emissions by 2035. EGAT additionally also has a policy towards carbon neutrality (EGAT Carbon Neutrality) by 2050.
Source : M Report