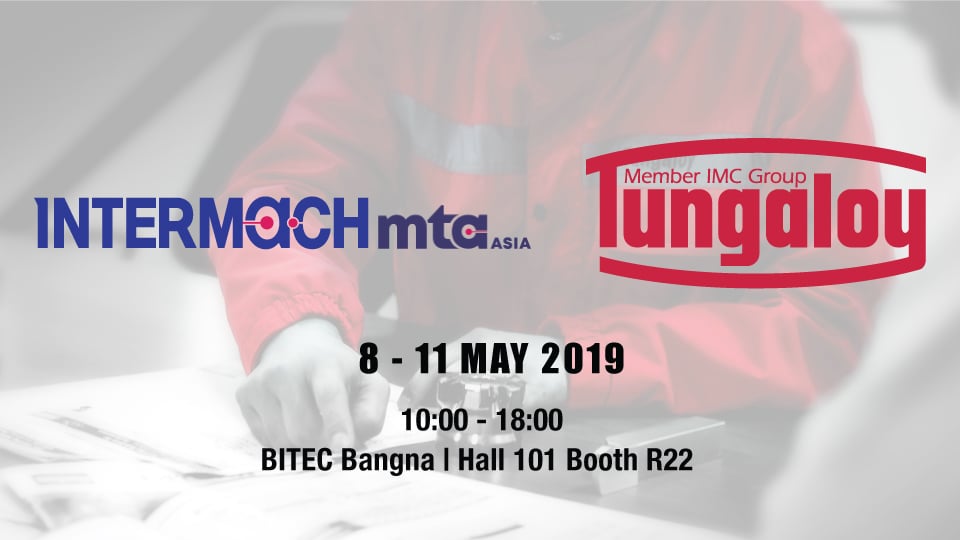 Don't miss you chance to know more about Tungaloy highlight products at Intermach 2019
Tungaloy Thailand will participate in industrial machinery and subcontracting exhibition at INTERMACH and MTA 2019, on 8th-11th May 2019 at Bangkok International Trade & Exhibition Centre (BITEC).
In this event, Tungaloy brings various new exclusive highlight products from Japan to present customer. We have a live demonstration to revealed Tungaloy cutting tools with high capacity by our Thai specialist engineers. Moreover, we also provide a special activity by utilize 3D Virtual Reality (VR) technology, program was created by Tungaloy Thailand, to get direct experience and understand on assembling tools with several inserts. Finally visitor can also see what the cutting result is?
This year Tungaloy also prepare explicit interesting activities for visitor. Visit us at Booth R22 Hall 101. Our activities are simple and easy by answering us our highlight products and you may be the lucky one who award with our grand prize "New iPad Air 2019" from Tungaloy Thailand. Finally the result of the winner will be announced through Facebook Tungaloy Thailand on 24th May 2019.
Source : M Report